Yoanna is a Director, Country Head of Treasury & Trade Solutions (TTS), Citi Indonesia, a business unit of Citi's Institutional Clients Group (ICG) that offers integrated cash management and trade services to multinational, local corporations, financial institutions and public sector organizations across the globe. ​
Yoanna joined Citi in 2001 as a Management Associate in ICG. She has 20 years of banking experience, over which 16 years spent in TTS with numerous positions across Cash and Trade Product Management, New Business Development and Head of Liquidity Management for ASEAN cluster. Prior to her current role, she was the Head of Market Management, responsible for developing market strategy, business profitability, product proposition, sales and solutions support for TTS. ​
Aside from her professional role as Head of TTS, Yoanna is the steering committee for Citi Indonesia Women's Network (IWN), a globally acknowledged affinity group within Citi that serves as a platform to support the development and advancement of female Citibankers' professional career. Through this organization, Yoanna and the IWN committees hope to help creating a competitive-based working condition, talent development platform and establishing a dynamic and conducive working climate.​
Yoanna graduated as Bachelor of Banking & Finance and Master of Business Systems from Monash University, Australia​
​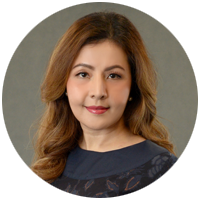 Yoanna Darwin
Country Head Treasury & Trade Solutions
Citi Indonesia