Vina Cheung is responsible for global RMB business development and connecting international business to opportunities arising from China internationalisation. She is the subject matter expert on the latest development for both corporates and institutions, in the changing landscape of global treasury and cash management involving RMB, China and China's integration with the global economy and financial system.
In addition to her RMBI remit, Vina heads a regional team managing product investment portfolios, product governance and commercial enablement for strategic programs, as well as direct management of Japan, Korea, and Taiwan product functions. Her strategic mindset, global exposure, and cash management knowledge enable both local and global product propositions delivery across markets, whilst connect clients to HSBC network and opportunities riding on local market know-hows and the latest financial technology development.
Vina has been with HSBC Global Liquidity and Cash Management team for over eighteen years and worked in various roles spanning from sales to product management in Singapore and Hong Kong. She was with BNY Mellon specialised in liquidity and investment management supporting a wide range of business and clientele in Global Corporate Trust, Asset Servicing, and Broker-Dealer Service in the Asia-Pacific region. Her cash management profession was first started in Vancouver working in Royal Bank of Canada.
Vina holds a bachelor degree in Business Administration from Simon Fraser University, Canada; a diploma in International Trade from British Columbia Institute of Technology, Canada; and a certificate in International Cash Management from the Association of Corporate Treasurers.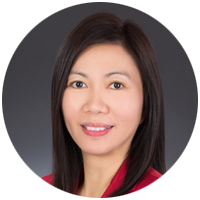 V
ina Cheung
V Global head of RMB Internationalisation, Regional Head of Product Strategic Program, & Head of Product Management North Asia, Global Liquidity and Cash Management Asia-Pacific
HSBC