Stella Lim is the Managing Director for SWIFT in Asia Pacific. Based in Singapore, Stella has deep experience across SWIFT's business in Asia Pacific.  
Before becoming Managing Director in April 2021, Stella was the Head of Corporates and Financial Institutions for the region and was responsible for business development and strategy planning, with a focus on cash and treasury management. She also drove account management activities for the Small Medium Customer (SMC) teams of SWIFT's financial instutitions members, both in the segments of banking and capital markets.  Stella joined SWIFT in March 2008 as the Country Manager for Cambodia, Indonesia, Laos, Malaysia, Myanmar, Philippines and Thailand.  
With over 25 years of working experience across the fields of information technology, banking and corporates, Stella worked with a number of financial software and advisory firms, including SmartStream Technologies, Internet Security Systems, Netik.com and Deloitte before joining SWIFT. Her responsibilities spanned pre-sales, account management, consultancy services and project management. 
Stella is a keen supporter of the education and advancement of women in the workforce, and serves as the global senior sponsor for SWIFT's diversity and inclusion program.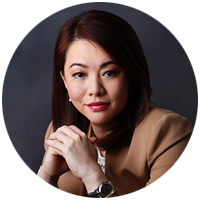 Stella Lim
Managing Director
SWIFT