Nandini Das Ghoshal is an executive coach, facilitator and researcher with more than 24 years in the industry, the last seven years exclusively dedicated to behavioral work, supporting individuals and teams with transformation and effectiveness in their personal and professional lives. She is based out of Singapore and is the co-founder of ION Consulting, an Applied Neuroscience consultancy headed by Dr Paul Brown, an acclaimed professor of Applied Neuroscience. Along with him, she hosts the ICF Accredited programme called the Science of the Art of Coaching, which has a global audience and is one of the earliest and best-known structured programmes for upskilling in neuroscience for the coaching community. She is one of the founding members of the ION Partnership, a global fraternity of senior executive coaches who use applied neuroscience to help leverage human potential. She is also the founder and director of Rhizome Learning, which engages with clients on behavioral workshops, team dynamics, leadership dynamics and one-on-one leadership coaching. 
She practices emotionally empowering, strength-based, neuroscience informed coaching. She is passionate about helping women in their professional journeys, with the aim of being more empowered, exercising greater agency, autonomy and  confidence.  
She is certified as a Masteries Practitioner with the International Association of Coaching (IAC), is an Extended DISC faciliator, Hofstede's Culture-in-the-Workplace facilitator, Lego Serious Play facilitator, Dynamic Facilitation expert and alumni of the Mindfulness Based Stress Reduction programme at UMASS. She is also the co-founder of a popular women's self-development public group coaching programme called the Story of Me.  
In the past, she co-founded a consumer insights & knowledge consultancy based out of Singapore and has more than 15 years in Marketing, Product Management, Consumer Insights consulting, Knowledge Management and Business Analysis and authorship.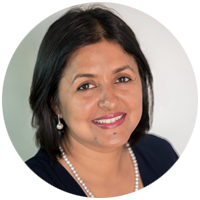 Nandini Das Ghoshal
Executive Coach & Facilitator, Executive Director
ION Consulting Pte Ltd. Founder & Partner
Rhizome Learning Pte Ltd.