Minh Ha Truong has been appointed BPC's Regional Managing Director in June 2021 with the aim to fuel the group's growth across Indochina with responsibilities for Vietnam, Laos, Cambodia and Myanmar. In this new role, Minh Ha Truong is responsible for scaling the business, strengthening client relations, forming new partnerships and extending BPC's consultancy services.  
Minh Ha will grow BPC's financial software business in addition to establish its most recently launched fintechs including, Radar Payments for SaaS-based payment processing in Indochina region and O-CITY for smart city and mass transit services across AP 
Minh Ha is an accomplished leader with 25 years in sales, business development and strong background in payment industry. She joins BPC from Visa International where she set up the business in Vietnam and spent 16 years building the success of the card network in the region.  
Minh Ha held several senior positions within Visa Vietnam including Business Development Manager, Head of Sales. Minh Ha was the first Vietnamese who held position as Visa Country Manger– Vietnam, Laos and Cambodia in 2008.  
Prior to joining Visa, she spent four years working with the renowned International Finance Corporation (IFC), a member of the World Bank Group as Business Development Analyst for Mekong Project Development Facility 
Minh Ha holds degrees from the Ho Chi Minh City University; Executive MBA from Maastricht school of management, Netherlands; Card Business Management from Cambridge University and  INSEAD Leadership Management Training program.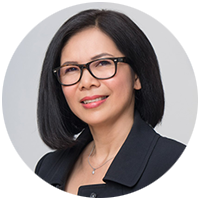 Minh Ha Truong
Regional Director, Vietnam, Cambodia, Laos & Myanmar
BPC Banking Technologies