Meghan Connolly joined American Express in November 2018 as SVP & GM, GNS Asia Pacificwhere she is responsible for our Global Network Partnerships where we partner with banks across the region for card issuing and acquiring.
Meghan joined from Standard Chartered Bank in Singapore where she has worked for the past 12 years in a variety of roles leading product, marketing, credit and operational functions in over 25 markets across Asia, the Middle East and Africa. She has been responsible for a wide range of financial retail products, from deposits and mortgages to personal loans and credit cards. She has overseen these portfolios creating customer communications strategies, implementing card acquisition and activation programs, and developing customer segmentation strategies.
Meghan has a proven track record of leading large and diverse teams to deliver strong business growth. She is a strategic thinker, a customer advocate, and a strong relationship manager. Prior to Standard Chartered Bank, Meghan spent 10 years at MBNA in roles of increasing responsibility in marketing, risk and credit card operations. She brings a global perspective having lived and worked in the U.S., Canada, the UK and Singapore.
Meghan frequently speaks on leadership and diversity. She received her Bachelor of Arts in English from Georgetown University and continued her executive education at Oxford University in the U.K. Meghan is married with two children and puppy named Chester. This year she is attempting to master golf (again).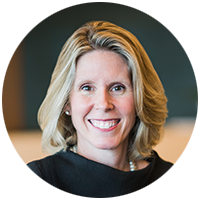 Meghan Connolly
Senior Vice President & General Manager, Global Network Services, Asia Pacific
American Express