As the Director of Network Management & Delivery at Rapyd, a global Fintech-as-a-Service unicorn, Lakshmi is responsible for Rapyd's network expansion efforts across the world - leading complex internal projects and working on the company's ambitious initiatives. Prior to joining Rapyd, she spent a decade at PayPal, spanning roles across engineering, technical project management, go-to-market, and business operations.  
The 16 years multi-disciplinary journey has turned Lakshmi into a holistic Business Leader who is able to communicate effectively across the organisation with the goal delivering growth, and eventually helping companies to achieve their business goals. She believes in the power of technology as an enabler across all walks of life, and uses it every day to drive these outcomes.  
Lakshmi holds a Masters in Computer Science from the University of Iowa, USA. She is based in Singapore and in her free time, loves spending time outdoors with her husband and two kids.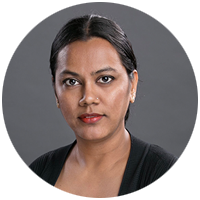 Lakshmi Rajagopalan
Global Head of Network Delivery
Rapyd