Kim Underhill is an Industrial & Organisational Psychologist, Management Consultant, Keynote Speaker and Executive Coach. Armed with more than 25 years international business and management experience in the food service industry. Kim held senior roles managing fortune 500 key accounts and leading change through strategic & organisation development, increasing people effectiveness and business performance. 
Kim is the author of "Success Inside Out, Challenge or Choice" a 6-step self-coaching methodology and guidebook.   Her 2nd book "New Age Leadership" looks at the holistic approach to becoming effective, influential and inspiring leaders. 
Kim was Presidents of Daughters of Tomorrow and Singapore Business & Professional Women's Association and runs a non-profit campaign Sewing Mums helping women with chronic illness earn a living from home based sewing projects. 
Kim launched her own SHE BRILLIANCE movement in 2021 with a vision created for women to aspire towards a purposeful life and lead change confidently.  A platform to encourage more women to step up to advance other women through its Mentorship Programme, Learning & Development Masterclasses and Socially Impactful Networking activities. 
Kim holds a Bachelor Degree in Business & Marketing and a Master of Science in Industrial & Organisation Psychology & Human Resource. She is a certified  practitioner of Solution Focus Coaching, Results Coaching, Belbin Team Roles and Neuro-Linguistic Programming (NLP). 
In 2021, Kim was recognised as one of the "Successful People in Singapore" by British publication Britishpedia; Straits Times SG Pioneer Women and received the 'Tough Cookie' Award at the Singapore 40over40 Inspiring Women campaign.  She was one of "Women Icon Asia" in 2018.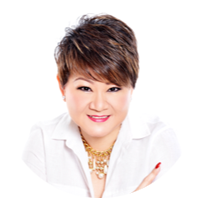 Kim Underhill
CEO/Co-founder
She Brilliance Singapore