Jessie has over 28 years of banking experience and currently Head of Global Subsidiaries Group & Joint Coverage Head at ANZ Singapore.
She joined ANZ in February 2015 and was responsible for setting up and growing the multinational corporate relationship management including the Regional Treasury Centres. She is part of the ANZ Singapore Leadership Team.
Jessie has successfully worked with corporates in managing their capital and trade flows both in Singapore and Asia Pacific covering clients across different industry segments including Oil & Gas, Technology, Consumer Products and across Large Local Corporates and global as well as intra Asian Multinationals including Regional Treasury Centres.
Prior to joining ANZ, Jessie has held various positions in ABN AMRO / RBS over a period of 15 years. These included Head of Network Client Coverage in Singapore as well as Head of Business Management for SEA Global Banking & Markets. Jessie also spent a year in Sydney looking after the large Australian corporates.
Jessie is on the Board of Austcham Singapore, serving as Vice President. She also volunteers as a mentor with the CFA Singapore Society and is a member of the CFA Singapore Society Mentorship Committee (previous Chair). She is also on the Board of Heartware Network, a non-profit organisation that focuses on development of youths. Jessie is married with two children.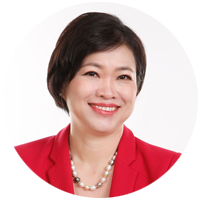 Jessie Yim
Head of Global Subsidiaries & Joint Coverage Head
ANZ