Gonca Latif-Schmitt is a Managing Director within Citi's Treasury and Trade Solutions at Citi based in New York. Gonca is a member of the Treasury and Trade Solutions Executive Committee as the Global Head of Commercial Cards. In this role Gonca leads a global organization that spans product management, market management, sales and account management for clients across the corporate, financial institution and public sector client verticals. Prior to her current appointment, she was the North America Business Head for the Citi Commercial Card business responsible for Citi's end to end North America card business as well as management of North America headquartered client's programs globally.
Over 20 years, her primary career focus has been on managing client relationships across several verticals to include corporate, broker/dealer, mutual funds and public sector. Prior to her roles in Commercial Card Product Management, Gonca was responsible for Development Organizations and Embassy Banking team within the North America Public Sector Group. The team primarily focused on managing a global portfolio of solutions that leverage Citi's 100+ country footprint. She worked closely to develop financial solutions to support these clients as they deliver humanitarian aid in development markets globally.
In addition to her responsibilities at Citi, Gonca is an active Board Member and on the Executive Committee as Treasurer for The National Association for Media Literacy (NAMLE) -- a non-profit organization dedicated to advancing media literacy education. In 2020, Gonca was recognized by American Banker as a "Woman to Watch." In 2021, Crain's included Gonca as a "Notable Women on Wall Street."
Gonca holds a BA from New York University. She lives in Manhattan with her husband and two daughters.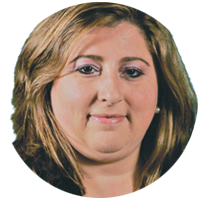 Gonca Latif-Schmitt
Global Head
Commercial Cards
Treasury and Trade Solutions
Citi